Click Any Image to View Full-Sized Version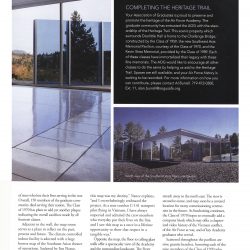 ---
The Bronze Map, Touching History.
By Douglas Clark
Copyright 2010
Magazine Article
---
Lincoln portrait sculpture of James Nance by Harold Holzer
Publishing Note
The following magazine article was written for the April 1995 edition of "Antique Trader" by Harold Holzer. Harold Holzer is widely respected as one of the country's leading authorities on the political culture of 19th century America, Lincoln, and the Civil War iconography. Holzer currently serves as Chief Communications officer of the Metropolitan Museum of Art and Adjunct Professor of History at Pace University. From 1989 through 1992, Holzer was director of the New York State Lincoln on Democracy Project. He is the author of twenty five books on Lincoln and the Civil War era. He has been awarded the Baroness-Lincoln Award of New York's Civil War Round Table and the Award of Achievement of the Lincoln Group of New York.Magazine article written in 1995 for Antique Trader Magazine on new Lincoln portrait sculptures by James Nance. Harold Holzer is the Vice President of External Affairs for the Metropolitan Museum of art in New York City. Mr. Holzer is author of 25 books on Abraham Lincoln and is the recognized leading authority on Abraham Lincoln art. Mr. Holzer is also Co-Chair of the Abraham Lincoln Bicentennial Commission.