These 7 bronze plaques, designed and cast, by Sculptor James Nance measure 20 inches by 20 inches and represent the seven highest Combat valor awards of the USAF. They are displayed in the Plaza of Heroes at the Vietnam Memorial Pavilion, USAF Academy, Colorado.
Click Any Image to View Full-Sized Version and Captions
---
Air Force Cross bronze plaques designed and cast by Sculptor James Nance. Awarded for: Extraordinary heroism while engaged in an action against an enemy of the United States. Highest medal of the USAF after the Medal of Honor. These 16 plaques are displayed on the West wall of the Plaza of Heroes at the Vietnam Pavilion at the USAF Academy. The following sixteen USAF Academy graduates displayed alphabetically were awarded the Air Force Cross in the Vietnam war.
Plaza of Heroes
USAF Academy Colorado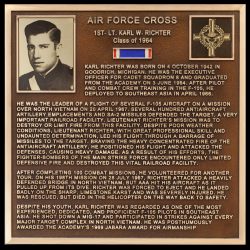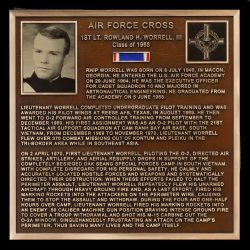 ---
The Silver Star recipients bronze plaques, designed and cast by sculptor James Nance. Awarded for: Gallantry in action against an enemy of the United States. Third highest combat decoration of the USAF. 205 USAF Academy graduates were awarded the Silver Star in the Vietnam war. These 4 plaques are displayed on the West wall of the Plaza of Heroes at the Vietnam Pavilion at the USAF Academy. The names of the 205 recipients are listed by class on these four plaques:
Plaza of Heroes
USAF Academy Colorado